Organza overlays can come in many sizes. If you require them without seams the maximum size is 60". Anything bigger will require seams in their production.
For placing of orders of overlays, feel free to mix and match the colours and sizes as you wish.
Our overlays can be made of either our Two-Tone Organza, Single Tone Organza or Polyester Satin.
Pricing
See chart below.

Custom Manufacturing
We are able to reproduce your overlays identically in size. We will also try our best to match dye lots to your present inventory.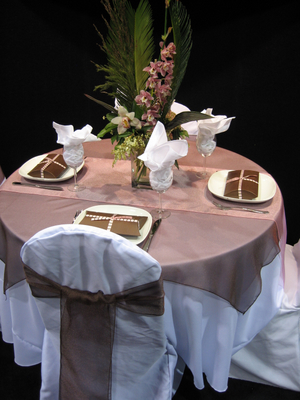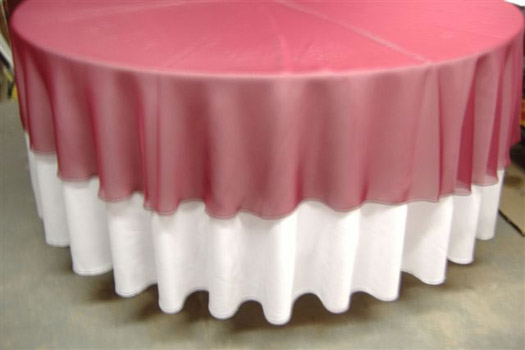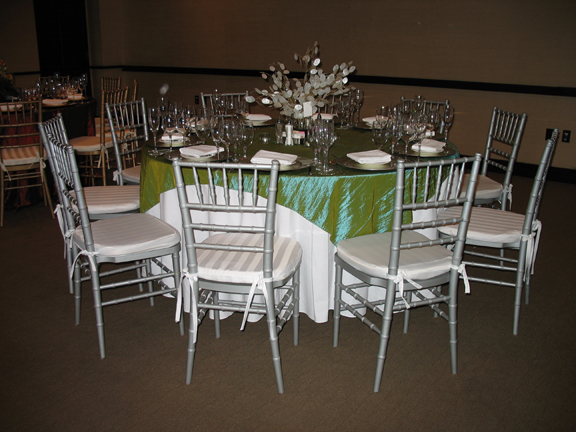 Square Organza Overlays
40"X40"
4.75/pc
54"X54"
5.58/pc
64"x64"
5.71/pc
72"x72"
6.68/pc
72"x120"
9.49/pc
84"x84"
8.60/pc
85"x85"
8.74/pc
90"x90"
9.34/pc
96"x96"
10.30/pc
58"X120"
10.44/pc
60"X120"
10.80/pc
58"X132"
11.40/pc
90"x120"
12.04/pc
90"x132"
13.05/pc
90"x156"
14.98/pc
Round Organza Overlays
58" Round
6.04/pc
108" Round
14.15/pc
120" Round
17.31/pc
130" Round
20.34/pc
132" Round
21.03/pc